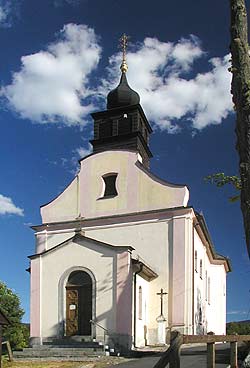 Altitude: 582 – 720 above sea level
Origins: first mentioned in 1850, Royal Magistrate's House founded in 1429
Number of inhabitants: 130
Administrative area in hectares: 3687,3 ha
The village serves as a starting point for a number of tourist trails. One of the tourist trails takes you to the national preservation area of Bílá Strž which is the biggest waterfall in the Šumava Mountains situated on the Bílý potok (White Stream).
Many tourists head for the Ostrý Peak which is 1293 m above sea level and serves as a border crossing point for hikers. Other trails will take you to the Černé Jezero (Black Lake), and the Prenet and Můstek Peaks. The village itself offers a tourist attraction, the Church of St Mary of Sorrow built in 1773 which was repaired and consecrated in 1993. One can follow the Stations of the Cross which will take them to the Church.
Tourists enjoying nature trails can follow the nature trail leading through the nature reserve of Úhlavský luh following the alluvial plains of the river Úhlava.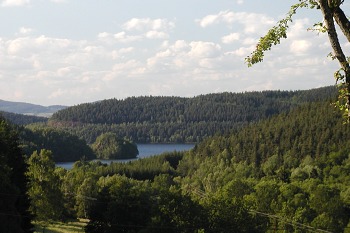 Another rarity is the 250 years old beech tree situated only about one kilometre from the village.
Board and accommodation can be found in the local hotels and pensions situated in the peaceful environment of the local countryside.